Caught Live: Anita and Me
Based on the award winning 90's novel and 2002 film of the same name, the play brings to life the fragile friendship of two teenage girls one Asian – one white, growing up in the small fictional village of Tollington in the Black Country
Meera Syal's excellent semi autobiographical coming of age tale Anita and Me is currently enjoying a successful run at London's Theatre Royal Stratford East.
Based on the award winning 90's novel and 2002 film of the same name, the play brings to life the fragile friendship of two teenage girls one Asian – one white, growing up in the small fictional village of Tollington in the Black Country.
Nostalgia is key as we are transported back to 1970's West Midlands, The accents are authentic and broad with words thrown out like 'bostin' and 'yowse'. And there are strong throwbacks to an era where flared trousers where the norm, kids played out until the streetlights came on and Jackie Magazine and Chopper bikes ruled.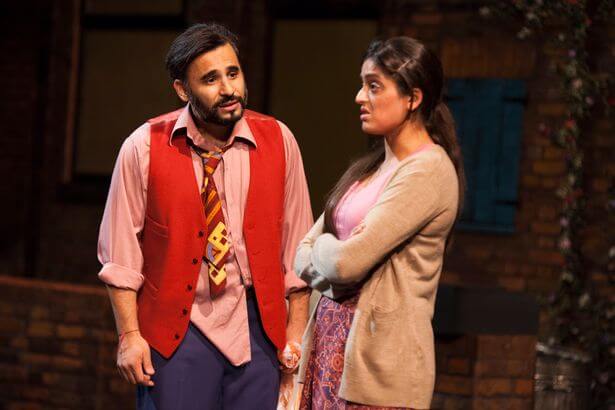 By the second half, a level of seriousness kicks in as Tanika Gupta's adaption cleverly intertweaves the mood changing racial tensions and employment frustrations of 1970's Britain. Highlighting the effect these have on Tollington, which is under threat to make way for a major new development.
Mandeep Dhillon who plays the angst ridden Meena, gives a superb performance of a teenager's struggle to be 'a good Indian girl' in a quintessentially English village. You are guaranteed to smile at Meena's naivety and laugh at loud at the non-PC ignorance of that era which is displayed through out the play. A special mention has to go out to a very convincing Jalleh Alizadeh as the sassy, abrasive, but very insecure Anita and Ayesha Dharker who successfully reprised the role of Mrs Kumar Meena's deeply homesick mother from the hit 2002 film.
The rest of the cast pull together to bring a vivacious energy that is very infectious, it will have you laughing and clapping along and definitely leave you wanting more. A funny, heart warming and a definite must see show, even if it's just for the Anglo Bhangra musical mix at the end.
Anita And Me runs at Theatre Royal Stratford East until 21 November. Tickets £7- 23.50
The Itchy Feet Guide 2019